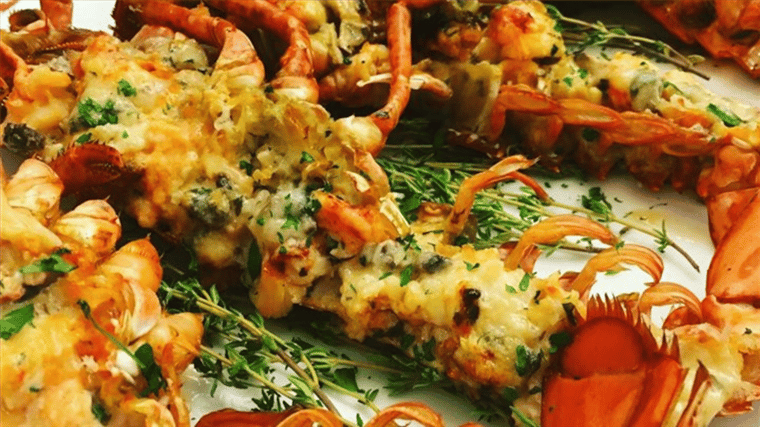 Recipes
Our Recipes
Lobster Thermidor
This recipe reminds me of Valentine's Day at Coach Insignia, I was the chef there and I used to run this feature recipe for the lovers!! This is another one of my recipes that is a throw-back, a twist on a classic. My nod to old school meets new school. So grab a loved one and enjoy some lobster tonight. You also might like to add steak and make the ultimate surf and turf. I would suggest a The Butchery Premium Angus Beef, filet, ribeye or New York strip steak for two!!
Enjoy,
Chef Dave
Ingredients
1 Medium (1 1/2 Pound) Cooked Lobster

2 Tablesoons Butter

1 Shallot, Finely Chopped

1 3/8 Cups Fresh Fish Stock

1/4 Cup White Wine

1/4 Cup Double (Heavy) Cream

1/2 Teaspoon Hot English Mustard

1 Tablespoon Fresh Lemon Juice

2 Tablespoons Chopped Fresh Parsley

Salt and Freshly Ground Black Pepper To Taste

1/4 Cup Freshly Grated Parmesan Cheese
How To Make It
Step 1
Cut the lobster in half lengthwise, and remove the meat from the claws and tail. Leave to one side. Remove any meat from the head and set aside. Cut the meat up into pieces and place back into the shell.
Step 2
Melt the butter in a large skillet over medium heat. Add the shallot; cook and stir until tender. Mix in the fish stock, white wine and double cream. Bring to a boil, and cook until reduced by half. Mix in the mustard, lemon juice, parsley, salt and pepper.
Step 3
Preheat your oven's broiler.
Step 4
Place the lobster halves on a broiling pan or baking sheet, and spoon the sauce over the lobster meat in the shell. Sprinkle Parmesan cheese over the top.
Step 5
Broil for 3 to 4 minutes, just until golden brown. Serve immediately.
Nurtition Facts
Per Serving: 653 calories; 28 g fat; 13.5 g carbohydrates; 76.7 g protein; 323 mg cholesterol; 2060 mg sodium.
Beef Shank Sauce Over Polenta Rice
Ingredients
5 pounds trimmed beef shanks, cut 2 inches thick




Kosher salt




Freshly ground pepper




3 tablespoons extra-virgin olive oil




2 onions, cut into 1/2-inch dice




4 celery ribs, cut into 1/2-inch dice




2 carrots, cut into 1/2-inch dice




2 cups dry red wine




One 28-ounce can crushed tomatoes




2 cups low-sodium vegetable broth or water




Cooked polenta or pasta, for serving
How To Make It
Step 1
Preheat the oven to 325°. Season the shanks with salt and pepper. In a large enameled cast-iron casserole, heat the olive oil until shimmering. Add half of the shanks to the casserole and cook over moderately high heat, turning once, until browned, about 7 minutes. Transfer to a plate. Repeat with the remaining shanks.
Step 2
Pour off all but 2 tablespoons of fat from the casserole. Add the onions, celery, carrots and a generous pinch of salt and cook over moderate heat, stirring, until the vegetables are very soft and golden, 15 minutes. Add the wine and bring to a boil. Simmer over moderate heat for 2 minutes. Add the tomatoes and broth and bring to a boil. Return the shanks and any accumulated juices to the casserole. Cover and braise in the oven for 3 hours, until the meat is very tender.
Step 3
Using tongs or a slotted spoon, transfer the shanks to a plate and let cool slightly. Using 2 forks, shred the meat and scrape out marrow from the bones. Add the meat and marrow to the sauce and rewarm over moderately low heat. Season the sauce with salt and pepper and serve with polenta or pasta.
Make Ahead
The shank sauce can be refrigerated for up to 3 days.
Recipe from Food & Wine January 2013
Bella Lena Hospitality / The Butchery / Pop Up @ the Butchery
Prime rib, also referred to as standing rib roast, is a beautiful piece of meat. Whenever we need a truly show-stopping, holiday roast we turn to it. A well-cooked prime rib is juicy, full of flavor, and not at all difficult to make. Plus, it's impressive: You'll make your guests think you labored for hours, but it'll be your little secret that it was no sweat. Trust me and I will guide you through the process.

How long do I have to cook prime rib?
Plan on about 15 to 20 minutes per pound. Keep in mind that the roast will continue cooking once it comes out of the oven. Follow these temperatures for when you'll want to remove the meat from the oven based on your desired doneness.
Medium-rare — 110º
Medium — 120º
Medium-well — 130º
Well — 140º
How do I cook a prime rib roast to medium rare?
Cooking a prime rib to medium rare is my preferred doneness—it has a red, warm center. You'll want to remove the roast from the oven when its internal temperature reaches 110º and then let it rest for at least 15 minutes before slicing and serving.
How do I cook a small prime rib roast?
A small, typically 5-pound roast will only take about 1 hour 30 minutes to cook.


How do I cook a prime rib roast in the oven?
You're going to want to cook your prime rib at two temperatures: first at the high heat of 450º, which will help get a nice sear on the outside of your meat and lock in its juices, and then at 350º to roast all the way through. Once you sear the meat at a high temp for 30 minutes, you reduce the heat and continue cooking until the meat thermometer reads 120º for medium.
Do I not need to season it with more than salt and pepper?!
Prime rib is such a fancy cut of meat that you don't need to do pretty much anything to it to make it taste delicious. But when we say season with salt and pepper, we mean it: You should be blanketing the meat with a thin layer of salt. Yes coat the meat well with salt and pepper.


How do I let a prime rib rest?
This is a very important step. You will be tempted to cut into the roast right away—omg, the smell!—but letting the meat rest before slicing will make sure you don't lose all of its juices, and will ensure the roast increases in internal temperature. Simply transfer the meat to a cutting board and loosely tent it with foil. Let rest 15 to 20 minutes before slicing.
YIELDS: 12
PREP TIME: 10 MINS
TOTAL TIME: 10 MINS
INGREDIENTS
1 Standing rib roast (about 1/2 pound per person)
1 tbsp. kosher salt (per ½ lb. of meat)
2 tsp. black pepper (per ½ lb. of meat)
1 bunch fresh rosemary (per ½ lb. of meat)
DIRECTIONS
1. Remove rib roast from packaging and place in a roasting pan. Let come to room temperature for about 30 minutes. Preheat oven to 450º.
2. Generously cover all sides of rib roast with salt and pepper. Place roast in a roasting pan fat-side up. Arrange half the rosemary in the bottom of the pan around the roast.
3. Roast 30 minutes, reduce heat to 350º and cook 1 hour 30 minutes more for medium rare. (Plan on about 15 minutes per pound.)
4. Remove roast from oven, cover with foil, and let rest 20 minutes.
5. To serve, slice along ribs to remove them, then separate each rib and put them aside. Slice the roast crossways against the grain. Serve on a platter with the ribs and remaining half fresh rosemary